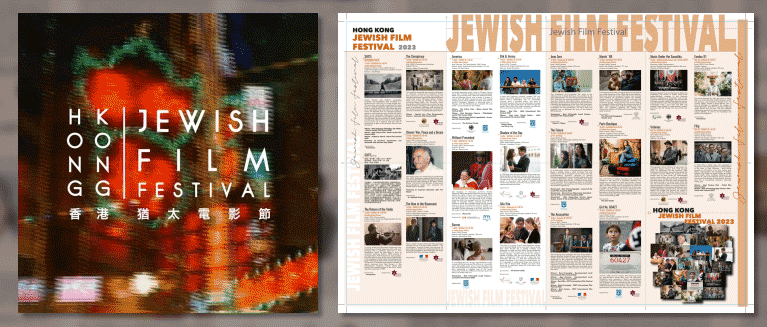 English below the Chinese
Time Out 說
一年一度香港猶太電影節2023回歸,帶來一系列猶太主題影視作品!11月11日至19日期間,香港猶太電影節在 MCL 數碼港戲院、K11 Art House 及高先戲院三間戲院放映猶太電影作品,作品出自法國、美國及意大利等西方國家,也不乏戰火蔓延以色列及烏克蘭等國家,孕育出風格各異,百花齊放的20多部長片、喜劇、紀錄片及短篇電影。
香港猶太電影節宣布以色列製片人 Yahav Winner 在哈馬斯襲擊以色列南部的家鄉卡法阿扎(Kfar Aza)後失蹤,Yahav Winner 的電影是由猶太電影節主要以色列電影發行商 Go2films 發行。以巴衝突近日局勢升溫,以色列及巴勒斯坦戰況再次受到國際關注。想了解更多以色列歷史和社會狀況,不要錯過以色列導演 Noam Kaplan 的《The Future》,榮獲以色列電影學院多個獎項,以緊湊刺激的劇情探討恐怖主義、治安與人性,同時對演算法和程式進行詰問,引發大家對人性及哲學的反思。其他猶太電影節作品主題廣泛,從友誼到政治,引領大家深入了解猶太文化。
所有非英語電影均提供英文字幕,首映電影《Shttl》則配有英文和繁體中文字幕。香港猶太電影節門票10月13日起在猶太電影節網站發售。2023香港猶太電影節正場票$110(成人)、$80(學生及長者);開幕夜場次連放映後派對門票$380(成人)、$280(學生或長者);影迷通行證可觀看電影節所有電影,售$1,800。
Time Out says
The annual Hong Kong Jewish Film Festival returns in 2023, bringing a series of Jewish-themed film and television works! From November 11 to 19, the Hong Kong Jewish Film Festival screened Jewish films in three theaters: MCL Cyberport Theatre, K11 Art House and Gordon Theater. The films came from Western countries such as France, the United States and Italy, and there were also wars spreading to Israel. and Ukraine and other countries, it has produced more than 20 feature films, comedies, documentaries and short films with different styles and a hundred flowers blooming.
The Hong Kong Jewish Film Festival announced that Israeli producer Yahav Winner, whose film was distributed by Go2films, the festival's main Israeli film distributor, was missing after Hamas attacked his hometown of Kfar Aza in southern Israel. The Israeli-Palestinian conflict has escalated in recent days, and the war situation between Israel and Palestine has once again attracted international attention. If you want to learn more about Israeli history and social conditions, don't miss " The Future " by Israeli director Noam Kaplan  . It won multiple awards from the Israel Film Academy . It uses a compact and exciting plot to explore terrorism, security and human nature, while also conducting research on algorithms and programs. The cross-examination triggered everyone's reflection on human nature and philosophy. Other Jewish Film Festival productions cover a wide range of themes, from friendship to politics, and provide a deeper understanding of Jewish culture.
All non-English films have English subtitles, and the premiere film Shttl has English and Traditional Chinese subtitles . Tickets for the Hong Kong Jewish Film Festival will be on sale on the Jewish Film Festival website from October 13 . 2023 Hong Kong Jewish Film Festival regular admission tickets are $110 (adults), $80 (students and seniors); opening night screenings including post-screening party tickets are $380 (adults), $280 (students or seniors); a fan pass can watch all films in the festival , sold for $1,800.
Full article in Chinese and English: Click here