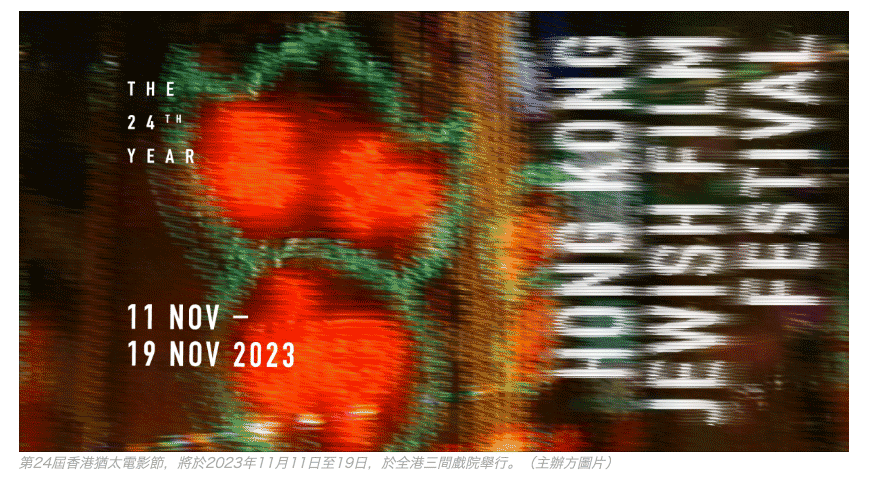 English below the Chinese

猶太電影節11月舉辦 多國影片涵蓋友誼與政治
【點新聞報道】第24屆香港猶太電影節將於2023年11月11日至19日,於全港三間戲院舉行。
電影節帶來與文化相關的影視作品,包括來自以色列、法國、美國、烏克蘭和意大利等不同國家,共二十多部劇情長片、喜劇、紀錄片和短篇電影。主題涵蓋從友誼到政治,引領觀眾進入平日無法接觸的世界和人物見解。電影節為觀眾提供深入了解猶太文化的機會,門票將於2023年10月13日起,於電影節網站發售。
電影節以屢獲殊榮的電影《SHTTL》拉開序幕,並邀得電影導演Ady Walter到場與觀眾進行討論和講解。這位法國導演的處女作電影是在基輔郊外搭建的場景中,以單鏡頭錄製,捕捉了納粹入侵蘇聯烏克蘭前夕,發生在意第緒語村莊的生活和愛情,重現了這場世紀戰亂的困局。
以色列導演Noam Kaplan的《The Future》,是一部情節緊張的戲劇,探討恐怖主義、安全和人性,該片榮獲以色列電影學院多個獎項。意大利導演Giuseppe Piccioni的《The Shadow of the Day》,是一部充滿懸疑曲折的浪漫歷史劇,影片每個場景都可以感受到歐洲與現代法西斯主義的相似之處。
史無前例的紀錄片《Without Precedent》,講述了加拿大最高法院首位猶太女性大法官Rosalie Silberman Abella。Abella是大屠殺倖存者的女兒,從小就開始捍衛那些面臨不公義的人的權利。這部鼓舞人心的電影,講述了她倡導包容、多元化和公平的加拿大的輝煌職業生涯,至今仍然引起迴響。
(點新聞特約記者陳惠芳報道)
新聞鏈接:
《猶太電影節11月舉辦 多國影片涵蓋友誼與政治》
https://www.dotdotnews.com/a/202310/11/AP6526726be4b0935e502057ed.html
新聞来源: 點新聞
本文著作權歸點新聞平台所有,非商業轉載請註明出處來源點新聞,商業轉載請聯繫點新聞info@dotdotnews.com
_________________________________    __________________________________________
Jewish Film Festival to host multi-national films in November covering friendship and politics
[Point News Report] The 24th Hong Kong Jewish Film Festival will be held at three theaters in Hong Kong from November 11 to 19, 2023.
The film festival brings culturally relevant film and television works, including more than 20 feature films, comedies, documentaries and short films from different countries such as Israel, France, the United States, Ukraine and Italy. Themes range from friendship to politics, taking viewers into worlds and insights they wouldn't normally have access to. The film festival provides audiences with the opportunity to have an in-depth understanding of Jewish culture. Tickets will be on sale on the film festival website starting from October 13, 2023 .
The film festival kicked off with the award-winning film "SHTTL", and film director Ady Walter was invited to discuss and explain with the audience. The French director's debut film was shot in a single shot on a set set outside Kiev, capturing life and love in a Yiddish village on the eve of the Nazi invasion of Soviet Ukraine, recreating the dilemma of this century's war. .
"The Future" by Israeli director Noam Kaplan is an intense drama that explores terrorism, security and humanity. The film won multiple awards from the Israel Film Academy. "The Shadow of the Day" by Italian director Giuseppe Piccioni is a romantic historical drama full of suspense and twists. The similarities between Europe and modern fascism can be felt in every scene of the film.
The unprecedented documentary "Without Precedent" tells the story of Rosalie Silberman Abella, the first Jewish female justice of the Supreme Court of Canada. Abella is the daughter of a Holocaust survivor and has been championing the rights of those facing injustice since she was a child. This inspiring film about her illustrious career championing an inclusive, diverse and equitable Canada still resonates today.
(Reported by Chen Huifang, special correspondent of Dian News)
Full article in Chinese and English: Click here